Today's business leaders are using technology-enabled services to manage environmental health and safety (EHS) risks. They're avoiding unnecessary expenses, preventing financial losses, and increasing business value. These leaders are using the personnel that they already have and leveraging today's technology to stay informed, maintain control, and manage risk.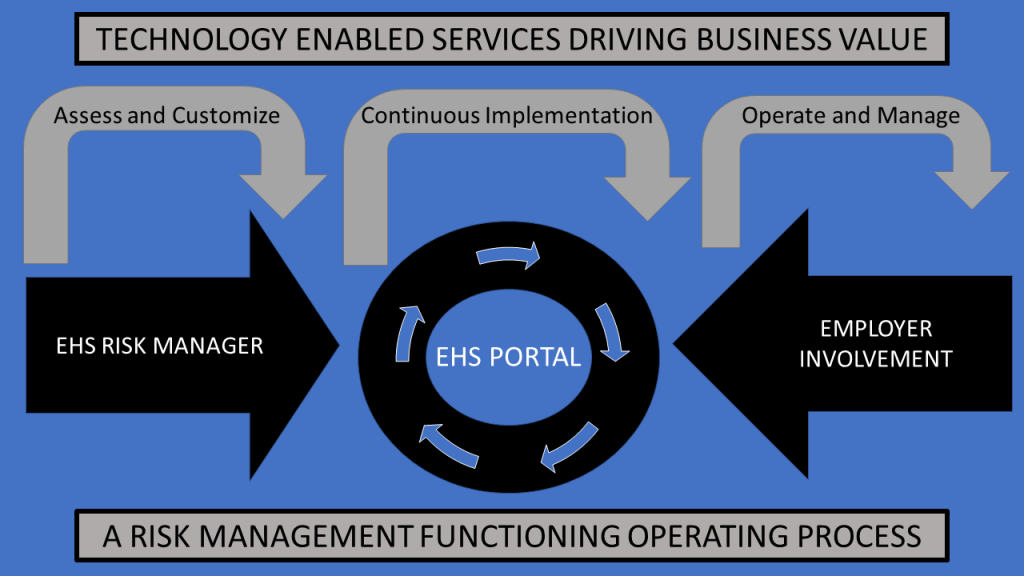 The diagram above shows how EHS Risk Management, LLC, headquartered in Troy, New York, provides technology-enabled services that drive business value. EHS Risk Manager, EHS Portal, and Employer Involvement are the three main elements.
EHS Risk Manager is an expert-led process that recognizes, evaluates, mitigates and manages EHS business risk. We use it to assess your specific risks and develop a custom program for you. Whether it's fires, chemical spills, increased workers' comp rates, or employee injuries or fatalities, our experienced professionals assess your risks, customize your EHS program, and develop written documentation that you can use for training, operations, and regulatory compliance. 
EHS Portal is an efficient, real-time, and cost-effective technology process that lets you manage and implement your company's EHS program. Our experts help you to operate and manage your specific program while your personnel continuously implement your policies and procedures. Whether it's on a smartphone, tablet, notebook or desktop computer, your employees utilize cloud-based technology with their existing devices.
Employer Involvement keeps you in control as you get the information you need to make smart decisions for your business. You don't have to be a trained safety professional to understand your EHS risks, and you can leverage the staff that you already have. Our experts will explain what you need to do, communicate the risks of what can happen, and show you how to take a proactive rather than a reactive approach to safety.
Business leaders who want to manage EHS business risks need professional assessment and information to manage those risks." – Jim Testo, President, EHS Risk Management, LLC 
EHS Risk Management, LLC can help you to build and implement a comprehensive safety management system so that you can recognize hazards and avoid incidents. You can also strengthen the bottom line by reducing the risk of fines, penalties, lawsuits, and higher insurance rates. By using our technology-enabled services to manage your risks, you'll drive business value.  
To get started, contact us. 
The EHS Risk Manager reduces costs and supports your organization's performance. The EHS Portal provides a real-time process for managing and implementing your organization's policies and procedures. To learn more, email Jim Testo at jimt@ehsriskmanagement.com